Why a career with MARA
In the Maritime Area Regulatory Authority (MARA), our people are our greatest asset. We aim to attract the best people to join our team through a best practice recruitment process to ensure that all recruitment is dealt with in a fair and efficient manner. Equally, we recognise that investing in the lifelong learning and development of our staff is central to the success of the organisation. We also ensure that there is emphasis placed on maximising potential while ensuring work-life balance and employee wellbeing.
Benefits of working with MARA
Once you are part of the MARA team, you will benefit from many ongoing learning and development opportunities, work life balance and many other benefits resulting in a rewarding and engaging working environment.
MARA offers a range of benefits to our employees:
Our public service salary scales are competitive, transparent and incremental.
All of our employees are members of the public service pension scheme. New entrants to the public sector will join the Single Public Service Pension Scheme.
We support and encourage a very strong work/life balance ethic and provide a generous annual leave allowance in addition to a range of attractive policies. These policies include flexible working hours, a shorter working year, work-sharing, carer's leave and remote working.
We provide full pay for maternity leave, adoptive leave, parent's leave and paternity leave.
We are flexible with how staff use their parental leave entitlements.
We provide paid sick leave in line with the public service sick leave scheme.
We have a range of services that are provided by the Employee Assistance Programme (EAP). The service includes confidential telephone and face-to-face counselling, parent and career coaching and an online wellbeing portal. There is also a specialist information service, which provides information on finance, legal, mortgage and consumer matters.
We maintain a generous learning and development budget to continue to invest and encourage lifelong learning for all our staff. We strongly support a culture of continuous learning and provide staff with a range of formal and informal learning opportunities. This includes academic and educational advancements, coaching and mentoring. We also provide fully paid leave for studying and exams.
MARA Recruitment Partner
The MARA have engaged RSM Ireland to facilitate our current recruitment competitions.
All recruitment for the MARA is carried out in compliance with the Codes of Practice for Appointment to Positions in the Civil Service and Public service prepared by the Commission for Public Service Appointments (CPSA) and which are available on cpsa.ie.
All vacancies in the MARA are advertised through our website, with a dedicated application page for each role. A link to each of these is outlined below under the relevant role and also contained within the competition booklet.
All applications must be submitted via this system.
Current Vacancies
The Maritime Area Regulatory Authority (MARA) are currently seeking to fill a number of permanent positions.
Please review our Important Candidate Information Booklet (below) before submitting an application.
We are accepting applications through a prescribed application form which can be downloaded below. CV applications are not accepted for these roles.
For additional information on these positions and for detailed instructions on how to apply, please download and read the relevant competition booklet by clicking on the links above.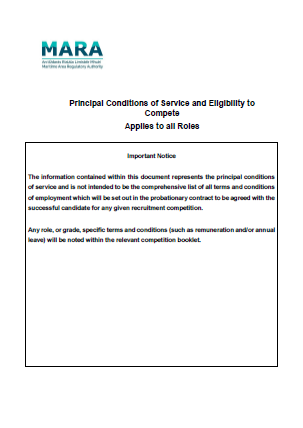 Important Candidate Information
PDF – 210 KB
Recruitment Privacy Statement
PDF – 661 KB